John Vassar Custom Shutters & Blinds, Get new for 2021. Happy Holidays!
We're Love our Customers in: Morgan Hill, CA, Fairfax, CA, Mill Valley, CA, San Rafael, CA, San Anselmo, CA, Sausalito, CA, Tiburon, CA, San Martin, CA, Modesto, CA, Oakdale, CA, Stockton, CA, Palo Alto, CA, San Jose, CA, Gilroy, CA, Hollister, CA, Santa Clarita, CA, Merced, CA, Concord, CA
Get Amazing Designs At Amazing Prices during our Winter Sale!
Call 800-506-6610 now to get a quote for the New Year. Enjoy Beautiful Plantation Wood Shutters.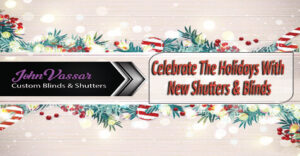 Our Factory Location on Blythe St., Van Nuys is not open to the public.  John Vassar Shutters and Blinds are made in the USA and because we do it custom, we will came to give you a complementary quote, right at you home: | 1-800-506-6610 | vassarshuttersscv.com 
Find The Best Designs For Your Home. Add some warmth with our Top Quality Shutters.
Custom Shutters for your home can add the right touch! John Vassar Shutters and Blinds
Time to call John Vassar Custom Shutters & Blinds. 800-506-6610
Let us share with you our Amazing Designs at Amazing Factory Prices!
Add some New Shutters or Blinds! – John Vassar Shutters & Blinds is having it's Fall Sale Now!
Let us give you a free quote – call us at 800-506-6610
Add that special touch to your home. Stop thinking about getting New Shutters or Blinds, Just Do It and Catch a glimpse of the seasons!
We also have beautiful blinds that not only let you choose your room brightness but, also lets you enjoy privacy by completely blocking the view from anyone outside your home! We Are the Factory!
John Vassar Custom Shutters & Blinds; None of our shutters come from overseas, we are the factory. All shutters sold and installed by John Vassar Custom Shutters & Blinds are built-in our factory right here in Van Nuys,California. We also build Poly core Shutters. We sell wholesale direct to the public, and then install all of our products at no additional cost. Our specialty is hardwood shutters.